peAR is Augmented-Reality based in restaurant ordering app.
The funds raised will be utilized to scale the company's current suite of solutions across geographies and to address more restaurant challenges.
peAr is one of the only 7 startups which was incubated at Zone Startups as part of the Zone Startups 1st Pre-Accelerator program ZSI Booster.
Inflection Point Ventures (IPV) has so far invested over INR 550 Cr across 170+ deals
peAR, one of the first startups in Asia-Pacific to make an augmented-reality based in-restaurant ordering app, has raised Rs 4.2 crore in a Pre-series A round led by 1crowd and Chennai Angels and co-Led by Inflection Point Ventures (IPV). The funds raised will be utilized to scale the company's current suite of solutions across geographies and to address more restaurant challenges as well as building a suite of integrated restaurant-tech solutions.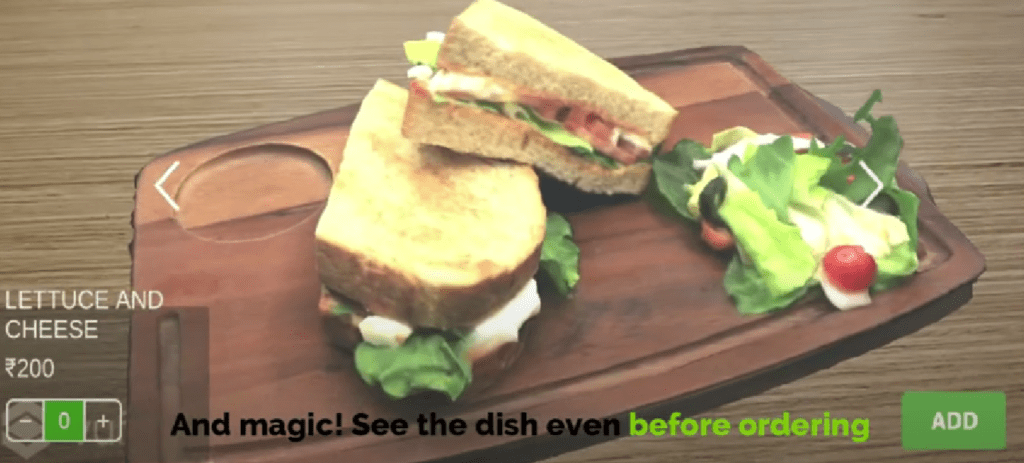 PeAR was founded in 2019 by then-college students Dharmin Vora, Dhruvesh Mehta, and Parth Vora with the goal of developing AR-based digital assets for businesses across industries.
Their vision is to change the way people view and order food inside a restaurant. peAR helps users visualize the dish before ordering, thus making sure customers have a delightful experience at the restaurant.
They use Augmented Reality to solve this. Their proprietary tech to transform the food choices on the menu into 3D images has enabled them to convert boring paper menus into interactive 3D Menus. This helps restaurants upsell as the orders are also placed digitally. Restaurants can now have the valuable data they were missing out on for dine-in customers. peAR is building a full-stack integrated ecosystem for 30L+ restaurants in India & emerging markets.
Mitesh Shah, Co-Founder, IPV says, "Post covid, the Horeca sector has been adopting tech on the front end to further refine the dining experience of the customers. From QR-coded menus to digital payments integration is now a norm across restaurants. However, the first POC is when shortlisting the order. Many customers are often left surprised at the food they order because a standard menu can't show the quantity, plating, and overall look and feel of the dish. peAR has understood this gap well and using their tech, they are addressing both the front end and the back end making their app more useful for restaurant owners. 3D image projection helps customers understand their order better before placing it and it also helps restaurants gather a deep understanding of their customers' profile and their preferences. We have seen the adoption of peAR's tech rising steadily and decided to back the company in this round also."
Dharmin Vora, Founder, peAR commented on the fundraise, "Our association with IPV has been wonderful from the beginning. They have backed us time and again & this just shows their approach to back their start-ups. Their guidance & CXO members helps us create a wide pool of people whom we can connect with and learn from. They have also done a fantastic job on keeping the members active & involved in every manner. Their immense support & efforts stands out amongst all investors"
India has over 30 Lakh+ restaurants & the dine-in market is over $40Bn. It is expected to touch $60 billion in the next 5 years. The dine-in market is 4 times larger than the delivery market in India. peAR is trying to address the dine-in market & help restaurants increase their bill value, repeats, manage operations smoother & save time with their full-stack ecosystem.
peAR is currently processing over 35k+ orders monthly, across 800+ restaurant partners, doing Rs 17Cr+ annualized GTV on their ordering platform. They are a team of 45 members, building the leading AR-tech solutions for Indian restaurants to increase their business & streamline operations. They are also building an integrated stack of solutions that not only makes restaurant operations smoother but helps them increase their bottom line as well. They are also launching their full-stack ecosystem solution with loyalty, payment integrations, hardware integrations & end to end suite to manage a restaurant.
About peAR
Founded in 2019 by then college students Dharmin Vora, Dhruvesh Mehta, and Parth Vora, peAR was started to develop AR-based digital assets for enterprises across industries. We started with the restaurant dine-in industry. Customers can visit any of our partnered restaurants, Scan QR code available on the table & see the Menu in 3D & AR. Customers can order, pay bills & earn rewards via the same. We have gamified the complete ordering process, helping users have a better dine-in experience & restaurateurs earn 25-30% more revenue due to increased bill value, repeats, up-sell, cross-sell & data availability. Today, the complete dine-in process is on paper & pen & there is no data available to anyone about dine-in ordering. With our software, we are digitising the complete restaurant industry.
About Inflection Point Ventures & Physis Capital
Inflection Point Ventures (IPV) is an angel investing platform with over 7400 CXOs, HNIs, and Professionals to together invest in startups. The firm supports new-age entrepreneurs by providing them with monetary & experiential capital and connecting them with a diverse group of investors. IPV has announced the launch of a $50 million CAT 2 AIF Physis Capital to invest in pre-Series A to Series B growth-stage start-ups.