Multiply Ventures, an early-stage venture capital firm, announced the closing of its maiden fund at ₹260 crore. The funds have surpassed the firm's initial target of ₹250 crore. The fund is thesis-driven, sector-focused and invests in startups on connected to the Indian Consumption Journeys across –fintech, retail, health, and ed-tech.
"We are on our path to setting up an operational VC firm, joining hands with startups as extended partners, which is essential for the Indian ecosystem. While the digital ecosystem has evolved locally, many innovations across sectors will come from early-stage startups which will need support beyond the capital. We are witnessing many nascent stage startups across sectors like infrastructure, credit, digitizing BFSI (banking, financial services and insurance) products, building tech-led distribution, identity systems for mass adoption, financial literacy, and inclusion."

Bhushan Patil, Partner at Multiply Ventures
Indian family offices and digital-first entrepreneurs make up the majority of investors in the fund. Approximately 95% of the investors are Indian. With a focus on early-stage deals across four core sectors—fintech, ed-tech, retail, and health—Multiply Ventures plans to invest in eight to 10 more companies in the next 12 months. It has already invested in 15 companies, including Nova Benefits, Freed, Bharat X, Nutty Yogi, Iluvia, and OneCare.
Multiply Ventures has backed unicorns such as Open Financial and DealShare and other startups, including Gramophone, ShopKirana, Mainstreet Den, and Skill Lync.
The emergence of an idea
The Bengaluru-based venture capital firm was founded by former Myntra, Flipkart, and Paytm executives Raveen Sastry, Sanjay Ramakrishnan, and Bhushan Patil respectively, after the Securities and Exchange Board of India (SEBI) approved the fund in 2020.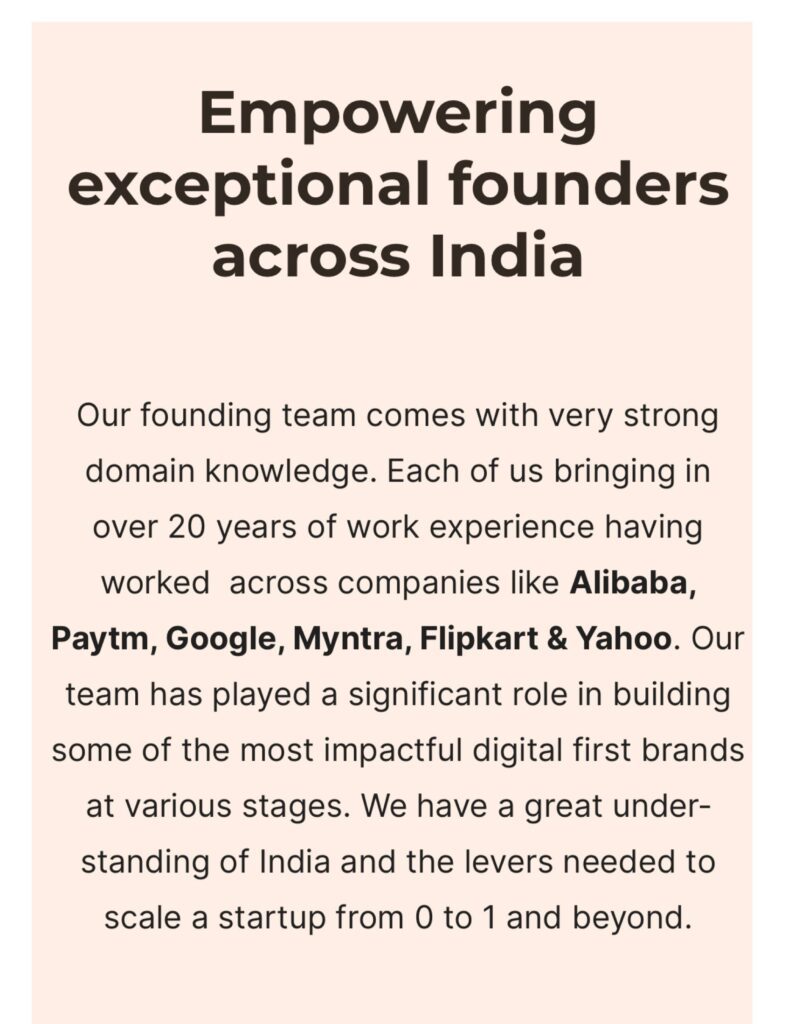 Ramakrishnan added," Technology will be a unifying catalyst across all sectors. We have a sub-thesis for each of the four sectors. The thesis is our governing framework and keeps evolving."
According to the statement by Raveen Sastry, multiply ventures will invest early, ideally, be the first institutional investor, leading the round. The fund's focus will be on pre-seed and seed rounds, while the average first cheque will be ₹ 4 Crore.
Founder and general partner Bhushan Patil is an IIT alumnus and the only Chinese speaker in the team. He has 20 years of experience in leadership roles in companies like Paytm, Alibaba, Yahoo & Talisma. Sanjay Ramakrishnan has worked across diverse industry segments for multi-brands and startups. Such as Google, Intel, Myntra, Flipkart, Ogilvy and GE health care. Raveen Shastry is a co-founder of 3 companies; Nudgespot– a marketing automation SAAS, Hoopos – a babies and Kids e-commerce company; and Myntra – a fashion E-commerce destination. He has prior experience working with multiple startups.
"My experience of building Myntra, Hoopos and Nudgespot as a Founder, Bhushan's experience at Paytm, Alibaba, and Yahoo in a product, cross-border commerce and fintech, and Sanjay's experience in consumer marketing across Google, Myntra, Flipkart and Ogilvy is what we bring to the table beyond capital and loads of empathy."

Raveen Shastry, Partner at Multiply Ventures