Swizzle, a Bengaluru-based startup providing unique alcoholic beverage delivery, has secured an undisclosed amount of funding in its maiden seed round from multiple investors. The seed round also saw participation from Dr Akshay Singhal (founder and CEO, Log9 Materials) and Monika Rao (co-founder and CEO, AIFMetrics).
The startup will deploy the raised capital to capture a vast market, boost production capacity, improve marketing, and develop new products. According to the statement, the startup aims to achieve targeted sales of over Rs 2.7 crore by working significantly on the brand presence and widening the customer base by 7x by the end of 2022. It is also planning to raise capital for their Series A round shortly.
"We are happy and glad to raise Swizzle's maiden seed funding. The funding will help us to hire more workforce, increase our manufacturing capacity and focus extensively on better marketing of our products. Considering the growing market size and scope in this segment, we are looking to raise more funds soon in order to accelerate our rapid growth trajectory."

Vrinda Singhal, co-founder and CEO, Swizzle
Swizzle's trajectory
Swizzle is an alco-bev solutions provider founded in 2019 by Vrinda Singhal and Deepender Singh that curates handcrafted, fresh, and premium cocktail mixes and mocktail syrups. It is the country's only company to deliver cocktail kits at home.
All the fresh ingredients, the Swizzle mix, the fresh garnish, the ice measurer, and the prep card with step-by-step instructions are included in the Swizzle kit. Swizzle's products have a shelf life of two to seven days. In addition to its website, Swizzle offers its kits through Swiggy, Zomato, and other delivery services.
"The cocktail market in India over the last few years have been on an interesting and upwards journey. Consumers have become more adventurous and experimental with flavors and combinations. Swizzle brings all this to your doorstep and have brought the whole concept of 'farm to table' to the mixology world. The packaging, choice of ingredients and quality of product was very impressive, and hence we became Swizzle fans from the moment we had our first sip."

Monika Rao, co-founder and CEO, AIFMetrics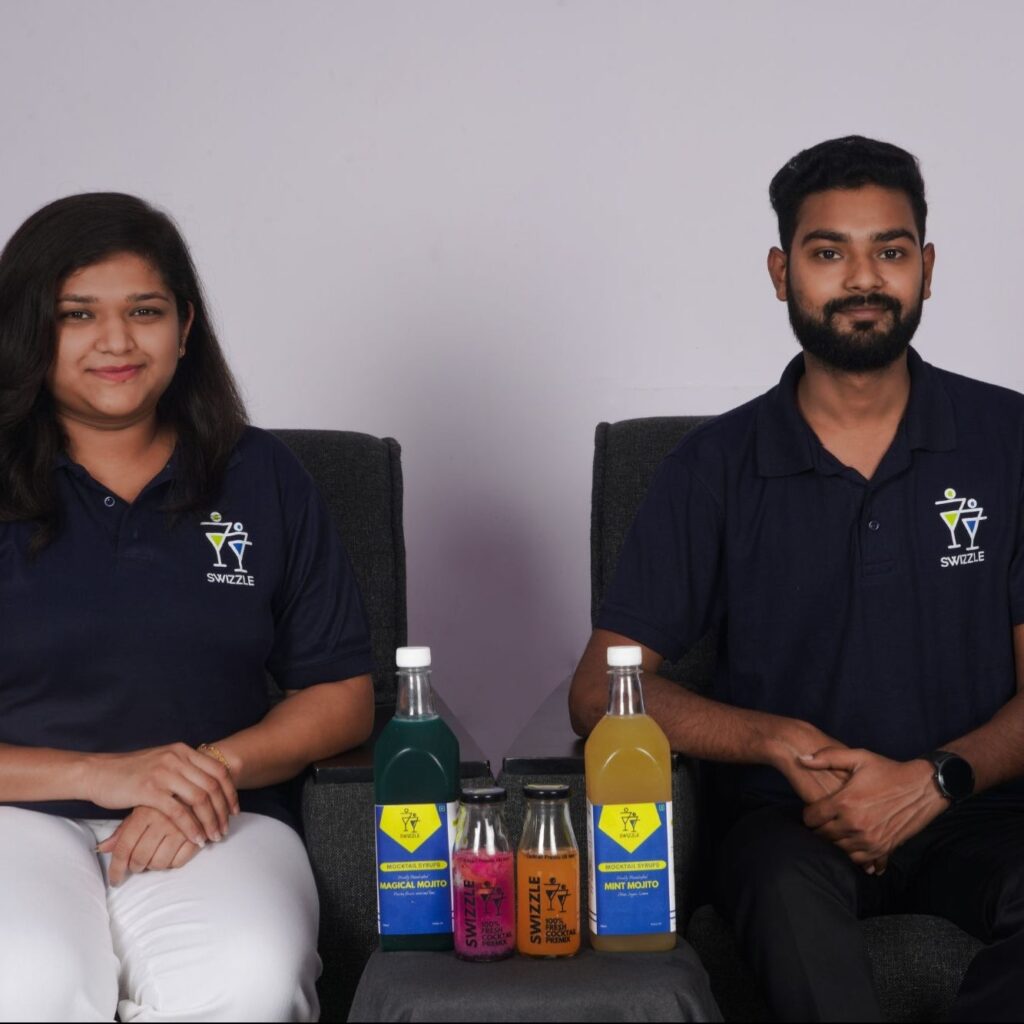 Working model
Swizzle operates on a 'franchise distribution model' where the concoctions are delivered at franchise outlets and further packed and dispatched from the outlet. Once the company receives the orders, the cocktail kits are prepared and delivered to customers at the address provided. Swizzle entails cocktail mixes and kits for all varieties of alcohol—beer, vodka, rum, gin, tequila, bourbon, and whisky.
Swizzle's advertising model provides liquor companies with an online advertising platform for better interaction with their respective customers. In the future, it intends to introduce a subscription model to make ordering easier for its clients.