"We are like tenant farmers chopping down the fence around our house for fuel when we should be using nature's inexhaustible sources of energy – sun, wind and tide. I'd put my money on the sun and solar energy. What a source of power! I hope we don't have to wait until oil and coal run out before we tackle that." – Thomas A. Edison.
True to Edison's prophetic words, humankind's unsustainable energy practices have now made renewable sources the only viable alternative for our future energy needs. Around the world, many prominent industry leaders, heads of states, and academicians have advocated the transition to clean and green energy sources. One such innovator spearheading the promotion of solar energy in our country is the IIT-Bombay professor, Dr. Chetan Singh Solanki.
Interaction with India's Solar Man
The Story Watch team sat down with Dr. Solanki to better understand his motivations and future objectives. At the outset, he comes off as a man of conviction, dedicated to his cause. His inspiration wasn't triggered by a single event, he says, but grew rooted in the idea of energy conservation through community participation.
Climate change, he believes, is an "existential threat that is not taken as seriously as it should be". He recollects conversations with people blaming humans as a whole as perpetrators of climate change, but reluctant to acknowledge their own contribution to the issue. The first step towards course correction, therefore, began with enlightening individuals about the adverse impact of their own actions.
He candidly emphasizes how "we've incessantly robbed nature of its resources without making any effort towards replenishment". Citing the examples of plunging groundwater levels, deforestation, and pollution, he explains how we are essentially the most spoilt species on the planet.
To reverse present circumstances, Dr. Solanki has planned an ambitious and one of a kind Energy Swaraj Yatra aboard his solar bus for the next 11 years. He plans to cover even the remotest corners of the country in an effort to raise awareness about solar being a better alternative than traditional sources of energy. This would help leverage community participation in achieving energy security. He believes, children and young adults can play a significant role in this movement. They are also more aware of the imminent risks of an energy deficit future.
When asked about the sacrifice that he has to make by staying away from his family and home for 11 years, Dr. Chetan Singh Solanki responds with passion, 'The bigger your goals and aspirations, the bigger sacrifices you have to make to achieve them'. He explains to us that true change does not happen overnight, it is a result of a lot of motivated people working towards a common goal over a long period of time.
The Journey So Far
Known by the moniker of 'Solar Gandhi' or 'Solar Man of India', Professor Solanki has devoted great deal of time and efforts towards building an awareness campaign to propagate the use of solar energy in India. His initiative garnered popular attention first in 2010 when he opened a school near his village for over 1000 students to be operated completely on solar power.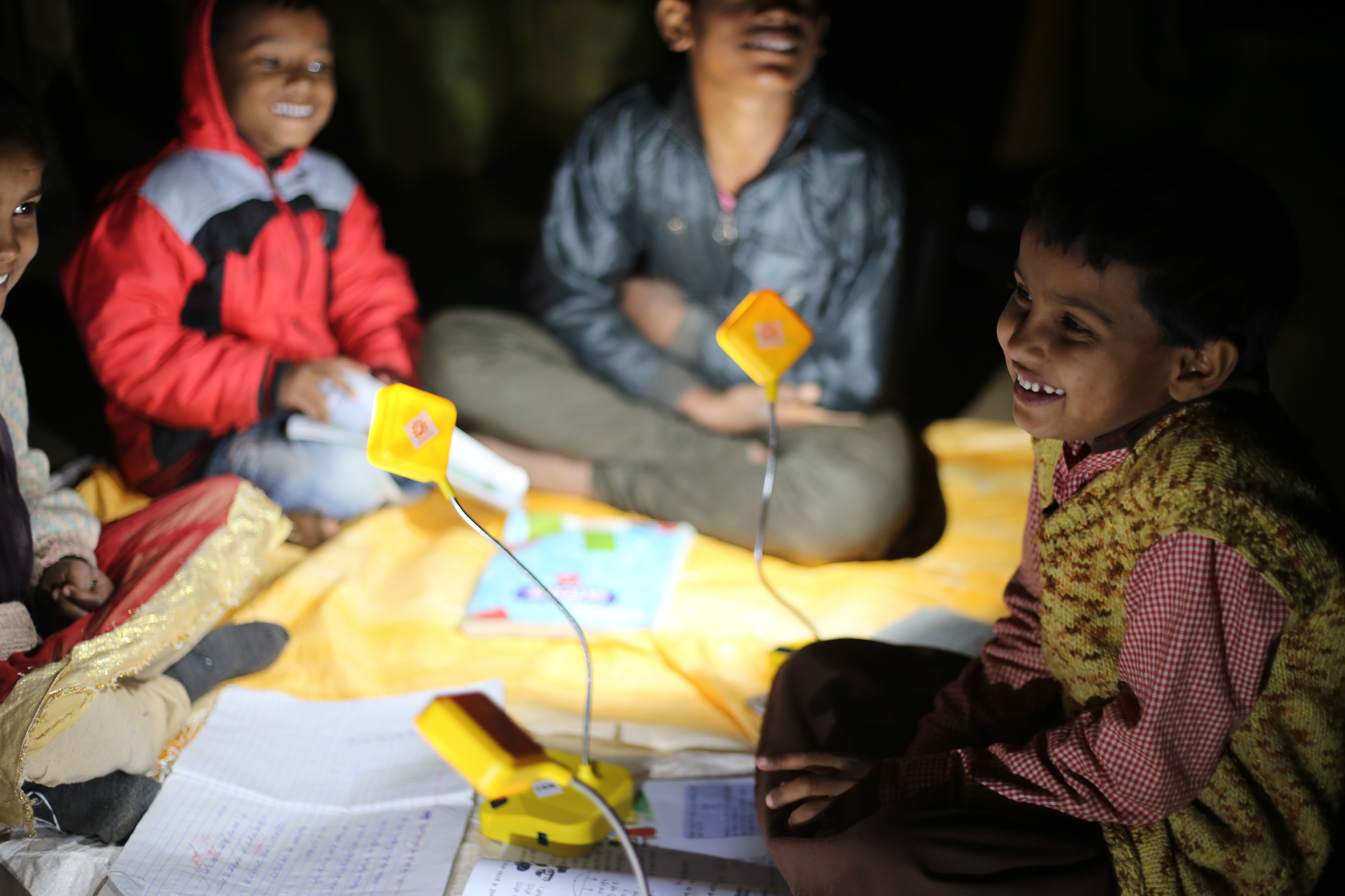 Million SoUL project

: Around the same time, he also noticed the excessive usage of kerosene lamps in villages bereft of proper electricity. The visionary in him wished to replace every kerosene lamp with a solar one, further propelling his idea among grassroot communities. Thus, he impressed the need for self-reliance within local communities. In pursuit of the twin goals of energy security and local self-sufficiency, under the guidance of Dr. Solanki and his team at IIT-Bombay embarked on the project, 'Localization of Solar Energy through Local Assembly, Sale and Usage of 1 Million Solar Urja Lamps (SoUL)'. They provided 20,000 solar lamps at 50% cost and 50% subsidy to students.
Interestingly, the project predominantly employed women at all levels of production and distribution. The small step to empower rural communities also helped spread awareness about the perils of an energy crisis and the means to combat it.
Solarvas in the Solar Bus

: In a bid to educate communities globally, Dr. Solanki has himself overseen the development of the one of a kind 'solar bus'. Modeled as a small house on wheels, the 40-lakh bus runs on diesel and solar energy. It can also comfortably accommodate 5-6 people. From November 2020, he began traveling to different cities in India. He aims to spread awareness about energy access, climate change, reduction in carbon emissions, and energy sustainability. He plans to be on this journey for the next 11 years. Its conclusion will coincide with the Sustainable Development Goals (SDG) deadline in 2030.
Energy Swaraj Foundation

: Headed by Dr.Solanki, the objective of the Energy Swaraj Foundation is to create awareness about climate change and to promote the benefits of solar energy. They expect to achieve this through a multipronged strategy. Local capacity building, cost-effective technology solutions, establishing a robust supply chain, and enabling local entrepreneurs are all parts of their long term goal.
A Path to Follow
Dr. Chetan Singh Solanki is at the forefront, leading a solar energy revolution in India. However, he is just one man trying to address the energy demands of the future. Surely, there will be no reprieve for future generations without switching to renewable energy. Solar energy is the most suitable alternative. It can be incorporated into simple gadgets like wristwatches as well as scaled up to power cities and states. Just as Mahatma Gandhi rallied people during his Dandi March, a similar movement heralded by local communities will also ensure a self-sufficient energy supply for future generations.
How to Support the Movement
Dr. Chetan Singh Solanki envisions the Energy Swaraj Yatra to be a people's movement. People can contribute to it by first and foremost adopting cleaner sources of energy and creating awareness about the issues regarding climate change. And finally there is also an option to become a permanent volunteer for the movement, if you want to contribute more to the cause. You can visit the Energy Swaraj website for more details.