Humans are fragile! We might not realize it, or even think about it because we're far too caught up in being the most intellectually developed species. Yet, we're social animals. As cliched as that sounds, it holds true; and we'd be lying if we said this pandemic hasn't taken a toll on our mental health in more ways than one.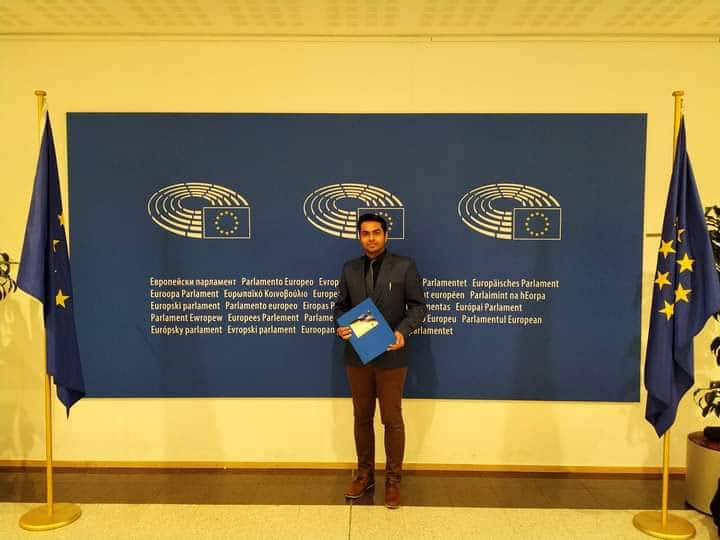 Abhishek Buddhadev, having had his own struggles with mental health, took note of this issue and launched the Moksha Foundation in response. The Moksha Foundation is a Non-Profit Organization that helps people struggling with mental health to the best of their capacity. Moksha seeks to provide a platform to individuals who feel like they have no one else to talk to, focusing on issues that are otherwise deemed taboo.
Abhishek's Background
Born and brought up in Surat, Gujarat, Abhishek never really had an easy childhood. As a young boy in school, he was often bullied by his classmates which adversely impacted his self-confidence. His education took him from Surat to Bangalore, where he spent a year learning German before moving to Germany to pursue his bachelor's degree.
He spent the next few years years at the Hochschule Bonn-Rhein-Sieg University of Applied Sciences in Germany where he completed his graduation. However, the culture shock from being a boy in Gujarat and a man in Germany took a toll on his mental health. Abhishek struggled to adapt to the local environment without having anyone to rely on to guide him. He found himself losing touch with friends, while the academic pressure made it even harder to cope.
Abhishek cites a part of this stress to Gujarati societal norms. From a young age, the culture encourages children to associate happiness predefined paths and milestones. This mindset made his academic and social struggles far more strenuous. With his sister growing more concerned about his well-being, he shifted from Germany to the U.K. with his family at her request. During that period, he hesitated to share his problems, fearing his family would not deem it important; not for lack of sympathy of course, but because of their traditional upbringing that simply does not give as much attention to mental health as it should.
Abhishek found solace in his sister, Rinkle, who understood him and could tell something wasn't right. She arranged for Abhishek to meet doctors to find a cause for his issues. After a few consultations, they realized that he was suffering from clinical depression. He needed to open up and pour his heart out to someone, anyone. That was the only way he could release his stress. Still, he had his apprehensions. He felt that trying to explain himself to her would only incite conflict.
Fortunately for Abhishek, his sister focused on listening to him, offering advice only if he ever wanted it. She gave him the emotional support he so desperately needed, without taking away his control over his own life. Clinically diagnosed with depression, Abhishek understood that his problems were valid, he wasn't wrong or any less of a person to feel that way.
Youth Politics
Moving back to Germany, Abhishek decided to start fresh with a clean slate. He got the opportunity to talk about depression and he jumped at it.
His talk was received quite positively, which motivated him to be more outspoken about his struggles. Finally, Abhishek started to feel more confident in his abilities; his self-esteem bloomed. With his newfound interest in public speech, he applied to participate in the panel discussion at the European Parliament in Belgium.
He admits that he did not plan to be involved in politics; his initial intention for participating was solely for the experience and to gain some exposure in a new environment. However, over the course of the two days of the Parliament he met another delegate from Germany who convinced him to participate in the National Assembly at Paris too. There, he worked for seven days following which he decided to apply for Youth Leader at the World Forum for Democracy at the European Council.
Since then, Abhishek has continued participating in several Youth Assemblies; talking about mental health and trying to work with different people from various backgrounds. Abhishek's work has garnered the attention of several news agencies and he has received political backing from several like-minded individuals, especially in Gujarat.
Launching Moksha Foundation
While giving an interview, Abhishek was once confronted with the question, "What do the people, who don't have someone like your sister in their lives, do when faced with personal conflict?"
A lot of times, people do not need solutions to their problems, they just need someone who is willing to listen and understand

Abhishek explains
This question astounded Abhishek, and in response Moksha Foundation was born. In spite of having a busy schedule, Abhishek was determined to make Moksha Foundation a reality. Thus, decided to dedicated every weekend possible to launch the initiative. His vision for the foundation is simple, provide people with a listening ear, become a pillar of support in trying times.
Abhishek further adds that we, as people, are more likely to open up to someone we don't have a personal relationship with because we are unlikely to ever interact with them again. The factor of anonymity offered by Moksha implies that people can talk about their problems with no inhibitions. There is no risk of any interpersonal relationship being put in jeopardy. People can just be themselves, unapologetically, which is more relieving than we'd realize.
Abhishek refuses payment for any services offered and everyone involved at Moksha Foundation is a volunteer. This means, every single person at Moksha simply wants to be there. They want to help people, support them in any way they can and if all else fails: to be their friend at least for the duration of every call.
It should be noted that no one at Moksha is a clinical psychologist and thus, they do not advertise themselves as an alternative to seeking help from a mental health professional. That said, Abhishek has mentioned that in some cases, he has referred people to psychologists who have offered their services to his callers and low rates; sometimes even free of charge. He has made this fact very clear on the Moksha Foundation website as well, but insists that this will not stand in his way of providing troubled people with a friendly ear.
Abhishek knows the value of having a friend, a good listener and it is this appreciation that drives him to offer the same to others in need. Free of cost, anonymous; the only goal at Moksha Foundation is to help you through the dark phase in your life.