Augmented reality has changed the face of the customer shopping experience in the Indian market. Its entry into the market has facilitated a holistic shopping experience for customers. Augmented reality allows an enhanced representation of the real world made possible by adding digital visual elements, sounds, or other effects.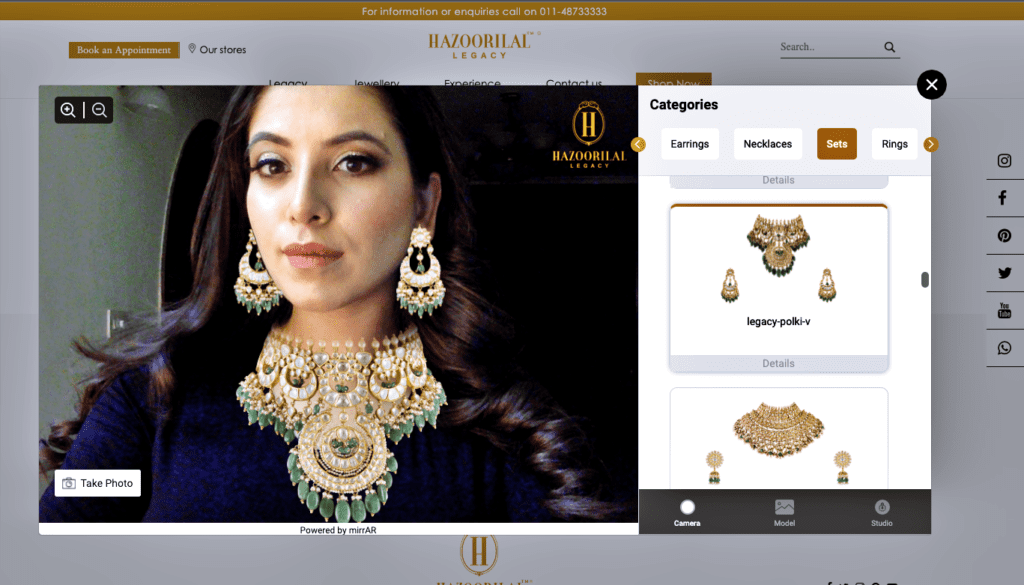 Stepping into the virtual reality through mirrAR
mirrAR is an omnichannel technology that lets customers try on items virtually before they decide to buy them. The company works with hundreds of retail brands, including jewellers like Tanishq, Kalyan Jewelers, HazooriLal Legacy, GIVA jewellery and Forevermark, which have integrated the solution into their websites, branded apps, social media accounts, and physical stores. mirrAR has digitised more than 2L+ items and has facilitated more than 119L+ try-ons across their clientele. mirrAR serves brands of all sizes, from enterprises to single locations, in tier I and tier II cities. The goal is to provide all new brands with a realistic virtual try-on experience.
Every integration is specific to the brand's organizational and innovation goals. For example, while some firms prioritize establishing an omnichannel technology before purchasing experience, others choose to keep the immersive experience in offline retail outlets for inventory purposes. Aside from that, marketers may interact closely with their consumers across channels and etch their products in their consumers' memories by providing them with an experience they remember. This also helps brands differentiate themselves from their competitors.
The idea behind devising mirrAR
Meghna Saraogi founded mirrAR in the year 2017. It is an AR tech platform that enables buyers to try on fashion, home appliances, furniture digitally. The technology allows customers to virtually try on products via augmented reality (AR) at brand stores. As a part of the virtual try-ons, customers can see themselves wearing different products as they would in real time. During the initial stage of the launch of mirrAR, many retailers contacted Meghna to want to install mirrAR in their stores to enhance the customer experience.
mirrAR was primarily launched to tackle the retail industry's age-old inventory and customer management difficulties through digitised SKUs that could be carried and tried on anywhere and everywhere in the world. In addition, the technology attempts to curate engaging offline experiences to differentiate businesses and enhance conversion rates. The implementation of mirrAR has assisted businesses in increasing sales by up to 30%, increasing customer engagement by up to 160%, and reducing return rates by up to 37%, all while providing an exquisite, world-class experience for their customers.
Today, Meghna is one of ten female entrepreneurs chosen for WEQ and one of the top twenty women in Cosmopolitan.
The mirrAR model
mirrAR is plugged into any device, such as an iPad or tablet, in the offline or in-store model. It can be integrated with any platform, application, or website. The platform offers real-time data to its portfolio clients, which helps them make better business decisions in inventory management, immersive campaign curation, consumer behaviour tracking, and more. It aims to deliver seamless integrations with technology breakthroughs, culminating in a world-class virtual try-on experience for users worldwide.
The scope of Augmented Reality
With augmented reality, shoppers can now try out jewellery on the brands' digital platforms, including iPads installed in various locations, without having to wear the pieces.
The state-of-the-art technology will assist businesses in expanding their reach by enabling easy checkouts by offering buyers additional product alternatives, the chance to try numerous jewellery items on themselves in rapid succession. The technology's can prove to be a major boost to more and more firms in fashion retail industries such as jewellery, watches, eyeglasses, beauty, and cosmetics by incorporating augmented reality into their business models.