Adil Teli is a 23-year-old young man hailing from district Baramulla in the state of Kashmir, who recently shot to fame with his record-breaking cycling feat of traveling from Kashmir to Kanyakumari in eight days, one hour and 37 minutes. He is now the fastest person to have covered the nearly excruciating 3600 kilometers stretch, en route to a Guinness World Record (GWR).
And he did it all in the sweltering Indian heat.
Keen to know more about this young man's motivations, The Story Watch team caught up with him for a one-on-one conversation. Brimming with excitement and confidence, Adil shared his inspiring journey to success.
The Modest Beginning
Adil is a very ambitious person who has always striven to achieve greater things in his life. His mentor, Akshay Kaul, underscores Adil's modest family background as the reason for his resilience. The young man's drive, he says, gathers strength from his humble roots.
Till ninth grade, Adil, like many boys his age, was interested in sports, particularly cricket. But during the same period, he watched race cycling and developed an interest in the sport. Unfortunately, he had no means to take up cycling professionally and had to be content with a normal bicycle.
Still, with limited resources at his disposal, Adil persevered and trained to become an ace cyclist. He began his cycling career in 2013. His entire training was based around the Punjab-Kashmir area, particularly Amritsar. He participated in numerous national-level contests and represented his home state of Jammu and Kashmir at senior national levels between 2015 and 2020. In 2015, 2017, and 2018, Adil was Kashmir University's face at the All India University Cycling championship.
First Big Challenge
In 2019, many cycling enthusiasts within the state and other parts of India traversed the route from Srinagar to Leh from Kashmir and India. The trip between the two points is also a touted hotspot for adventure sports. Here, Adil decided to take on his first big challenge.
Many people before him had attempted to cover the path over a few days period, going stage by stage. But Adil strongly believed that he could complete the journey non-stop, without taking any breaks at all. And so on 21st July, 2019 he set out from Srinagar and became the first person to cover the 440 km tract without breaks. Remarkably, he completed the trip in 26 hours and 30 minutes.
The K2K Struggle
Motivated and enthused by his first milestone, Adil began practicing ultra-endurance long-distance cycling. He interacted with top ultra-endurance cyclists like Bharat Pannu to gain perspective about the high-energy sport. Slowly but surely, he gained self-confidence and decided to pursue the Herculean trip from Kashmir to Kanyakumari in 2020. However, this was not to be an ordinary cycling event, but an attempt to break the Guinness World Record for completing the tiresome journey in the shortest possible time.
With his immediate goal set in mind, Adil began training six months before 2021. He planned his diet and exercise regime to boost his performance and endurance on D-day. But whilst preparing, he faced several issues, including the lack of sponsorship. His mindset was often affected by his family's financial troubles. His father, already in his sixties, is the sole breadwinner of the family. Adil grappled with the notion of taking up a job to support his father, instead of following his passion.
But his family stood strong beside him. They wished him success and motivated him to keep going forward.
The statewide shutdown imposed in Kashmir following the abrogation of Article 370 was another hurdle in Adil's path. He suffered through the eight long months of communication blackout, left with no avenues to continue his training. Once phone connections were reinstated, his spirits rose, and he began training anew.
The highlight of the interaction with Adil is his unwavering spirit. He lets go of past problems quickly, focusing on the possibilities of the present and future.
The 3600 km Cycling Sprint
The first part of Adil's uphill journey from Kashmir to Kanyakumari began by analyzing the previous record holder's path. He deliberated on his predecessor's entire trip, the number of breaks, and the hours of rest he took.
Adil remembers the day of his flag-off from Ghanta Ghar at Lal Chowk in Srinagar on March 22nd, 2021, as the culmination of his six-year-long effort.
At flag-off, my parents came and they cried. I understood the value of their tears and the trust they had. Those tears were my motivation to get through all pain, despair, and injury on my journey.
The picturesque landscape from Kashmir to Kanyakumari became a daunting battleground for a young man choosing to set a world record. Adil's experiences on the way are a testament of his strong will and tenacity.
Right from the beginning, the Jammu highway posed to be a challenging terrain that he had to cross. Minor landslides in the hills and heavy rain slowed him down at the outset. In Punjab, the rain continued, but Adil weathered the harsh conditions. The weather remained fairly pleasant in Delhi, but for the rest of the trip through Agra, Gwalior, Hyderabad, Madurai and other major Indian cities, Adil fought against the unforgiving summer heat.
With swollen limbs and a dehydrated body, he pushed through all travails on the way through sheer will.
There were instances when I thought of giving up, but my mind reminded me that I had to keep going.
Plagued by backpain, severe cuts and swellings, Adil suffered through eight days of the agony to reach his destination. His fingers grew numb and his knees grew stiff with agonizing pain. Yet, he never stopped. Giving up was never an option for the young man. So steadfast was his determination, that he took eyedrops to avert sleep and stay alert.
The last 35 kilometers of his trip were covered at the unbelievable speed of 45 kmph. At the end of his journey, his mentor, Akshay followed him, and his team cheered on and motivated him along the way.
Now I had to finish! I decided that I wouldn't give up until God stopped me.
And finish it, he did!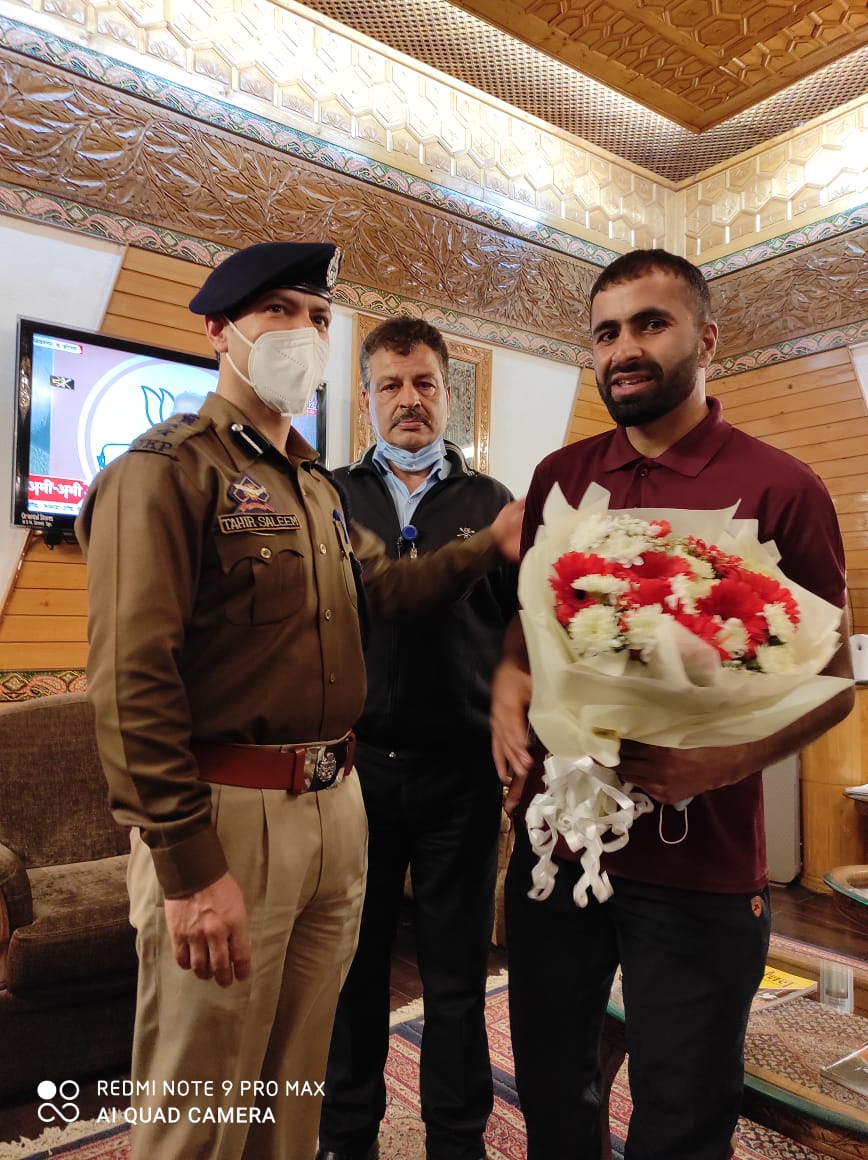 The last crucial fifteen minutes took a toll on him, his heartbeat surging dangerously to almost 210. Yet, with all the strife that dogged him during the ordeal, Adil emerged victorious. He covered the 3600 km long distance in eight days, one hour and 37 minutes, beating the previous record of eight days, seven hours and 38 minutes.
Adil completed his record-breaking trip by cycling almost 440 kilometers a day. He rested for almost 4 hours and cycled non-stop for 18 to 20 hours everyday. Even on the brink of exhaustion, his mind pushed his body onward.
He attributes his success to his family, who supported him in his ambitious endeavors. He thanks his coach, and the sponsors who provided him equipment and cars for his crew members. Despite working on a shoestring budget, Adil achieved the impossible, reiterating the value of willpower.
Physical weaknesses will always slow you down. All you need is willpower. If your mind is strong, it will help your body overcome anything.
Immediate Concerns
Adil, like numerous promising athletes in India, has to constantly worry about finances. To continue doing what he does and achieve success, Adil needs a steady monthly income to take care of his fitness and diet routine, college, and other expenses.
He also needs bigger sponsors to support his dreams and aspirations of even bigger goals and achievements.
Adil has emerged as a youth icon of Kashmir. Such remarkable achievements by a young man, will encourage others as well to forge paths of their own. It could go a long way in infusing positivity and hope among youngsters not just in Kashmir, but all over India.
Future Plans
Adil plans to continue cycling professionally. After three months of recovery time, he aspires to restart training for other world records. Though it has been difficult to find sponsors for such big attempts at world records, he has decided to keep up his efforts anyway.
Even after scaling such high heights, Adil is just an ordinary young man at heart. He worries about his family's economic situation and often wonders how he could ease their burden. Still, instead of looking for employment opportunities, he has chosen the brave path of making a name for himself in the world of cycling.
But receiving acclaim isn't easy. In India, we celebrate talent but perhaps do not support it as much as we should. However, rare gems like Adil Teli deserve special attention. He emerged stronger from life's hardships to pursue his dream. There is a long road ahead of him if he is to continue on this success path assiduously. He is the face of an emerging generation, empowered to shape its own destiny. His achievements are an inspiration for youth in our country to follow their dreams and never give up.