Frantic phone calls and traumatized voice messages mark the days of hundreds of Afghan women as Taliban's reign of terror comes into play for yet another time. The relentless discrimination exercised against them increases fears that women's rights could easily be a casualty of this process. Let's take a recent incident into account:
Dr. Zuhal used to drive herself to work.
Of let, she started taking a taxi to avoid reprisals from the Taliban, who once banned women from driving. It didn't help. On the second day of the Taliban takeover, a Taliban gunman dragged the doctor, who didn't want to use her full name, out of the taxi and whipped her for filming the chaos surrounding the evacuations at the Kabul airport through her window.
I cried the whole way home
she said
Women's football team
cries out for help
For so long I have been fighting to bring visibility to women of Afghanistan and to encourage women of Afghanistan to use their voices. Now I'm telling them to silence that voice, to not talk, to not meet people, to take everything down, to remove their identities. That is very painful.
Says Khalida Popal, the former Afghanistan women's team captain.
Popal had been a pioneer of football among the Afghan women. She had helped to establish the women's national football team in Afghanistan. She stopped playing in 2011 to focus on coordinating the team as a director.
Popal said she has been receiving plenty of calls from the players, seeking help amid Taliban takeover. They are afraid that any time the door will be knocked. When they call, all Popal can do is advise them to flee their homes, escape from neighbors who know them as pioneering players, and try to erase their history — particularly activism against the Talibans.
It's hard to even imagine Afghanistan, ranked 152nd by FIFA out of 167 women's teams, playing again.
However, the recent headlines say the players from Afghanistan women's national soccer team had an "important victory" on Tuesday when they were among a group of more than 75 people evacuated on a flight from Kabul on a plane bound for Australia.
said a Fifpro, the players' union of Afghanistan.
Their cricket team likely to get blocked
The Taliban have said they will not interfere with the Afghan men's national cricket team, the country's biggest sporting success of recent years, or stop the expansion of the flagship Twenty20 league, an Afghan cricket official said. The fate of much more modest women's cricket programmes, however, remains unclear.
Recently, the Afghanistan Cricket Board (ACB) awarded national contracts to 25 female players with but the road ahead seems a bit difficult for the aspiring women cricketers.
Speaking about which, Hamid Shinwari, chief executive of the national board, said:
I think it will be stopped – that is my assumption. I really don't know what the position in the future will be.
Hope and terror juxtaposed in the same frame for the women artists
Amid the unfolding nightmare, art is attempting to flow through the shackles. Fearless women like Shamsia Hassani, an internationally-renowned street graffiti artist and the first such woman from Afghanistan, are continuing to make art that pushes the barrier. Shamsia's art usually feels like a testament to the strength and resilience of Afghan women. Her works signify that the power of a woman's voice is not easily silenced, even when her mouth is closed.
Let us make peace. I want my country, my home back. I want peace and freedom for my people
Says Shamsia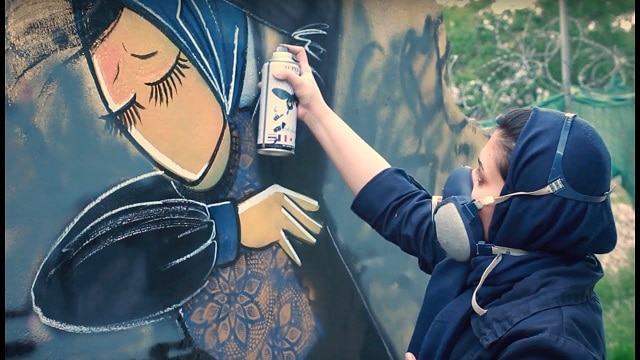 Back in July, Afghan visual artist and photographer Rada Akbar had given a distressing view into her world – of powerful portraits, images detailing women's struggle for rights, art pieces speaking of freedom and… death threats. She had mentioned the Taliban were enemies of women.
By killing some of us, they will force the rest of us to be silent.
She added
Also, the Taliban, during their rule over the country during the Afghan Civil War, notoriously blocked out all forms of public art, entertainment and music. However, the Afghan women artists, despite imminent fears of a doomed future, are holding up their spirits.
The coming days appear hazy
On Monday, Nobel Peace Prize winner Malala Yousafzai – who was shot aged 15 by the Taliban for campaigning for girls' education in Pakistan – expressed concern about the situation for the safety of women and girls in the country.
she told the BBC.
Since its ouster in 2001, the Taliban has maintained its insurgency against the U.S.-led mission in Afghanistan and the Afghan government. As the Taliban returns, Afghan's past threatens its future.
While they have publicly pledged to respect women's rights within the limits of Islam, the group hasn't elaborated on their own reading of it, or made specific promises. Interpretations of Islamic law vary widely, and the possible range of restrictions are causing many inside and outside Afghanistan to fear the worst for women's freedoms.