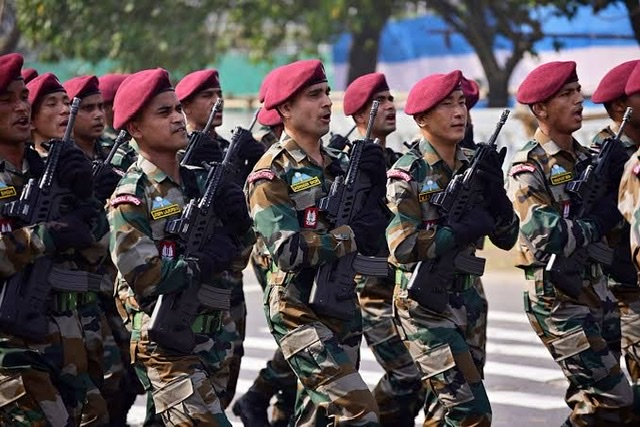 The Union Cabinet approved a new recruitment scheme for Indian youth to serve in the Armed Forces. The programme is known as AGNIPATH, and the youth participating in it are known as "Agniveers".
The government initiated the Agnipath scheme to give the Armed services a more youthful profile and improve average age of armed forces. It will allow the youth willing to be a part of the Indian army by attracting young talent from the society who are acquainted with contemporary technological trends, skillful, disciplined, and motivated. This scheme will recruit 46,000 Agniveers for the Armed Forces this year. With the announcement of the Agnipath Scheme, a door has been opened for young people to serve their country for four years.
According to Navy Chief Admiral R Hari Kumar, the scheme is for male and female aspirants aged 17.5 to 21 years. However, the recruitment of women would be based on the needs of the respective services.
At the end of the four years, the disciplined, dynamic, motivated, and skilled workforce can pursue their career in the job of their choice.
What happened before Agnipath scheme?
Aspirants were recruited into the armed forces on a 15-year contract with a lifelong pension before implementing the Agnipath scheme. However, owing to the COVID-19 pandemic, there have been no recruitments in the army for three years since 2019. Meanwhile, 50,000 to 60,000 soldiers retired each year, creating a workforce shortage that began to affect the armed forces' operational capabilities.
The recruitment process
The Indian Air Force released details on the 'Agnipath' recruitment scheme in a PDF format on its official website https://indianairforce.nic.in/agniveer/.

For recruitment in Indian Air Force, the registration will start from 24th June 2022 onwards. The Online Exam begins on 24th July 2022, the first batch of Agniveers to be induced in IAF in December 2022 and training to start from 30th December 2022 onwards.
Remuneration
Agniveers will be given an enticing customised monthly package and Risk and Hardship allowances for each of the three services. In addition, Agniveers will be paid a one-time 'Seva Nidhi' package of Rs 11.71 Lakh upon completion of their four-year engagement period, which will include their contribution plus accrued interest and a matching contribution from the government equal to the accumulated amount of their contribution plus interest, as shown below. As a result, Agniveers will earn around Rs. 4.76 lakh per year in the first year, rising to Rs. 6.92 lakh per year in the final year.
Post-completion Benefits
After completion of 4 years, 25 percent of Angiveers will be absorbed by armed forces. Remaining Angiveers can seek higher education or apply for other positions reserved under certain departments.
The Ministry of Home Affairs has planned to reserve 10 percent vacancies for recruitment in CAPFs and Assam Rifles for Agniveers with upper age relaxation. The upper age limit for aspiring youth has been modified to 23 years.
The Defence Ministry also announced a 10% quota for the Coast Guard, defence civilian positions, and 16 defence PSUs, including major ones like Hindustan Aeronautics and Bharat Electronics, as well as four shipyards and 41 ordnance factories.
Ministry of home affairs and defence ministry have announced concessions and incentives to support Agniveers find gainful employment. Union Minister Hardeep Singh Puri stated that the PSUs under his housing and petroleum ministries are working on hiring 'Agniveers' after their four-year military service.
"It's a good scheme. Despite clarity over misunderstandings, it is not right to stick to the demands. I appeal to the youth not to let go of this golden opportunity. There will be no problem in the future"

MoS Defence Ajay Bhatt
According to Air Chief Marshal VR Chaudhari, the selection process for the Air Force will begin on 24th June 2022 while the training for first agniveers will begin at the centres this December 2022.
Indian Air Force & Indian Army will release more Agneepath Recruitment Notifications on their official websites in the coming days.