Indian youth has always been at the forefront of bringing something new to the table. With increasing awareness and compassion for the planet, the young creators are focusing on inventions that are sustainable, easy to use and benefit the majority of the population.
Neel Shah, a science student at Zenith High School in Vadodara, Gujarat, invented a solar-powered cycle made of a scrap e-bike. The bike operates on the force of the sun's energy and a dynamo alternator. He made this cycle that gives a mileage of 25-30kms in a single charge as a part of a school project.
A school project that led to a revolutionary invention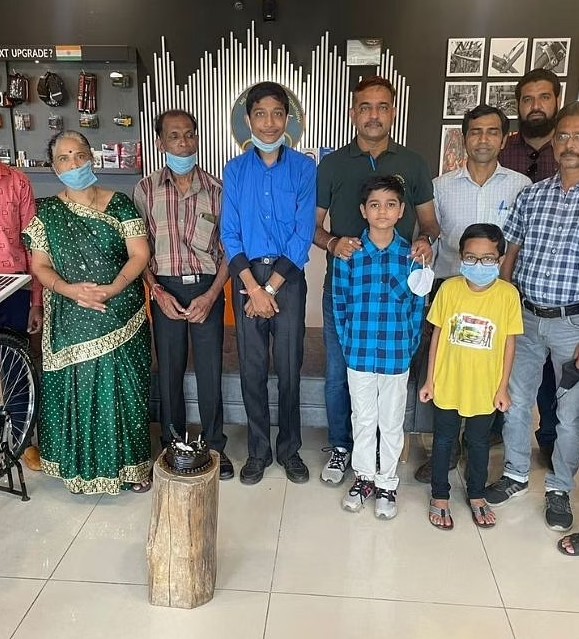 Neel's interest in science, particularly physics, was piqued during his childhood. Being an inquisitive student, he always asked questions related to solar energy and its operations so that he could create something for the benefit of people. Amid rising fuel prices and sky-rocketing electricity bills, Neel vowed to bring out a solution to address the plight of a daily commuter with an emphasis on reducing carbon footprint.
He created a helicopter out of a plastic bottle and waste cardboard for a 'Best Out of Waste' school competition in Class 7. Later, he chose the science stream for senior secondary education to focus on creating more such innovations.
In his journey, Neel was mentored and guided by his physics teacher Santosh Kaushik, who fueled his interest in physics and gave him solar energy as a research topic for the project. Santosh Kaushik handed out him a project to create a solar bicycle since the fuel prices are rising. Soon, Neel began his research and started working on the idea by purchasing a scrap bicycle for Rs 300.
When science meets creativity
Neel reveals that it took him a month to get the cycle running. He dedicated more than half this time to conducting in-depth research on solar energy and its mechanisms.
He bought two 10-watt solar panels, a pair of 2-volt batteries and a dynamo alternator. The dynamo is a motor-run device which is attached to the tire. It generates electricity through natural current when the wheel rotates, the solar panels charge the cycle during the daytime along with the dynamo that charges it during pedaling. Neel employed the mechanisms and principles of mechanical and electrical engineering in creating the two-wheeler.
The cycle works on a relay charging system, where the panels actively charge it under the sun even when it's moving. The bike takes around 8 hours to charge fully and can run up to 15 km. If the panels or battery capacity is increased, the distance can be further increased.
Future plans
Neel aims to pursue a career in science and become a physicist after obtaining a PhD in the same subject. At present, he uses the solar cycle to ride to school and other places in his town. Neel desires to make more innovative and sustainable products that can help people improve their living standards.