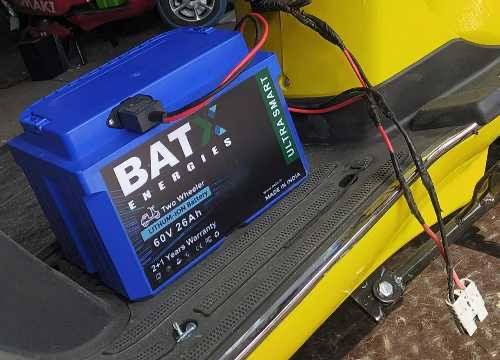 BatX Energies Pvt Ltd, a lithium-ion battery recycling startup, announced that it had secured $ 1.6 million (nearly Rs 12.5 crore) in a seed funding round. The round was prominently led by JITO Angel Network and was also joined by Mankind Pharma, Kamaljyot Investments, a subsidiary of Excel Industries, and Haldiram's family offices.
Existing investors Rohit Chanana of Sarcha Advisors and Anmol Jaggi of BluSmart Electric also joined the seed funding round.
The fund will help the startup expand its footprint in the Indian and international markets. A critical focus of investment will be on advanced R&D for producing battery-grade materials, scaling up capacity, and establishing micro facilities (spokes) across the country.
"With this investment, we plan to fill the demand and supply gap of lithium, cobalt, nickel and manganese in the EV industry reducing carbon emissions, for which we are constantly developing our technology and processes to treat all kinds of lithium batteries circulated in the global market."
We are fortunate to have received a lot of interest from various countries for our economically viable solution and machinery, thus opening our routes for global organic expansion. BatX Energies will invest up to USD 50 million over the next 24 months in setting up our recycling units in different geographies."


BatX Energies Co-Founder and CTO Vikrant Singh
Insights on the company



BatX Energies has developed a proprietary Zero Waste – Zero Emission technology to extract critical Rare Earth metals from scrap Lithium-Ion batteries, including lithium, cobalt, nickel, and manganese. These essential materials are the driving forces behind global electric mobility. With this round of funding, BatX Energies plans to build an AI-enabled commercial-scale rare earth battery materials extraction plant and take the lead in India. In Q3 of FY 22-23, the company will begin specific material extraction via their proprietary chemical process in its recycling unit, which is already producing Black Mass (a mixture of battery anode and cathode materials).
BatX Energies is in advanced discussions with various global agencies to expand operations and provide end-to-end service for preserving rare earth materials, which are otherwise mined with extensive efforts and stress-generating carbon emissions.
BatX Energies aims to recycle approximately one billion Lithium-Ion cells over the next three years, significantly reducing carbon footprints and producing sustainable battery materials.
"BatX Energies' goal of creating a circular economy and promoting the ethos of sustainability strongly resonates with our own beliefs. We view the company as a champion in green-tech solutions that would bolster the global green energy transition," JITO Angel Network Vice-Chairman Sunil Kumar Singhvi mentioned in an official statement.
Over the next two years, the company plans to invest up to USD 50 million (over Rs 390 crore) in establishing lithium-ion battery recycling units in various geographic locations.