Chaayos, a New Delhi-based chai cafe chain, announces raising $53 million in a Series C round led by Alpha Wave Ventures. The round saw participation from existing investors Elevation Capital, Tiger Global Management, and Think Investments.

The new funds will be utilised to enhance technology, recruit new employees, and expand the store.

Nitin Saluja, the company's founder and CEO, stated that they saw the long term of the country's tea industry and realised that if they prioritised improving their technology, they could set themselves apart from the other players and scale up the business well without sacrificing product quality.
"The latest capital raise will help us deepen our technology investments to further enhance our guest experience. We will continue growing our cafe footprint, going deeper into our existing cities, and exploring new markets. We are also continuously looking to hire talent to handle the scale we aspire for."
"A unique combination of innovations in food and drinks offerings, strong leverage of technology solutions and obsession over customer satisfaction has positioned Chaayos as a clear leader in their space."

Deepak Gaur, Partner, Elevation Capital

The idea behind founding Chaayos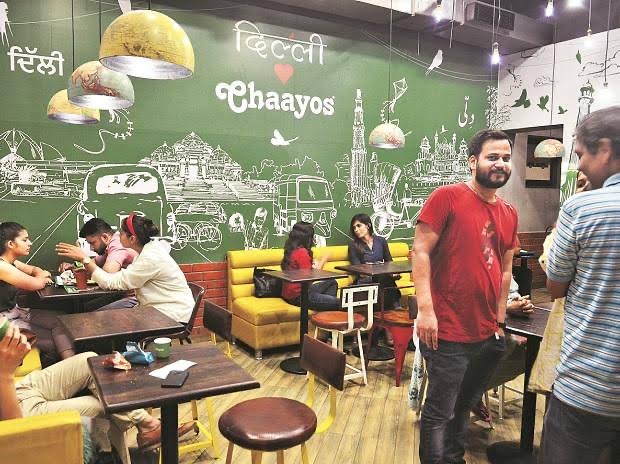 Sunshine Teahouse Private Limited, known as 'Chaayos', was formed with the vision to create a unique tea experience for the consumers of India. With several tea experiments, today, India's customers can easily access a good cup of tea and snacks.

Chaayos is a food and beverage company founded in 2012 by Nitin Saluja and Raghav Verma. The platform which employs cutting-edge technologies such as artificial intelligence (AI) and the internet of things (IoT) enables a seamless guest experience. The omnichannel approach of the platform allows guests to order chai even when they are unable to visit the Chaayos outlet.
Customers at Chaayos can personalise their fresh cup of tea in 80,000 different ways. The café currently operates 190 locations in six cities, with plans to add 100 more by the end of 2022. In addition, according to a company statement, Chaayos online chai deliveries now account for 45 per cent of revenue.

"We are excited to partner with Chaayos. Its team has delivered personalised tea consistently well at scale through proprietary systems and technology. Moreover, we are impressed by the team's customer obsession, which is visible in its best-in-class unit economics and customer NPS."


Navroz Udwadia, Co-founder of Alpha Wave Global.

The founders also stated that they intend to consolidate their position in the cities in which they currently operate, as well as to begin expanding and entering other Indian cities. The company is also looking to expand its workforce by hiring top talent to work on its technology in order to provide a much smoother experience for its customers.

In February 2020, the cafe chain raised $21.5 million in equity and debt. In September 2018, it raised $12 million from a number of venture capital (VC) firms, including SAIF Partners and Integrated Capital.