Bengularu-based venture capital firm, gradCapital, launched its second fund with a corpus of $6 million on Friday, September 1. The fund will exclusively invest in student led startups across the country. According to a statement, the VC firm will offer a standard investment of $40,000 each for 4% equity.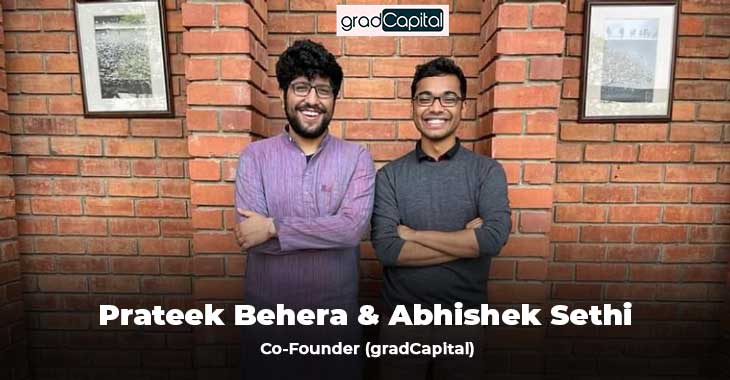 The fund is backed by some of the most renowned names in the global ecosystem, CIIE, IIM-Ahemdabad's incubation center, Nearbuy co-founder Ankur Warikoo, Blue Jeans Network co-founder Alagu Periyannan, and Inventus Capital Partners co-founder and managing director Kanwal Rekhi.
The funded young entrepreneurs will be a part of a four-week cohort in Bengaluru. The participants will receive guidance from notable startup entrepreneurs like Ather Energy co-founder Tarun Mehta, Razorpay co-founder Shashank Kumar, and Zerodha CTO Kailash Nadh.
A brief history
In March 2021, Abhishek Sethi and Prateek Behera, BITS Pilani and IIM Ahmedabad alumni, founded grapCapital. The pan-India, student-driven institution has the goal of being a starting point where college graduates can hone their ideas. Needless to say, they have helped a lot of startups gain momentum since.
The VC promises one-on-one mentorship and first-hand experience with experts for their startups. They have a wide array of associates across states with decentralized operations to identify promising start-ups. The firm consciously picks 20 startups from the 3000+ applications they get every year.
They have conducted prior cohorts to aid startups. Among these, about 30% of startups had raised an average follow-on round of $600,000. They were aided by venture funds like Lightspeed and Rainmatter Capital.
gradCapital had raised approximately $1 million to deploy into 18 companies. Reportedly, the fund has returned about two times its initial value in only 18 months.
A future-focused mindset
Co-founder Abhishek Sethi expressed how grapCapital's investment is not simply a venture into finding and investing in profitable business deals. Despite the stilted education system, chief expectation is to provide a helping hand to aspiring students and build a promising future for them.
"Being a student also has an unfair advantage: building with friends, not being scared of thinking big, and being scrappy or fast with their project. How many experienced people can do that? It's a systemic failure when ambitious students aren't able to take off while in college, and they end up taking a job because of a loan and become too rational. After which, they are more likely to start a D2C company instead of a quantum computer, and we need more of the latter," said Abhishek, co-founder and CEO, gradCapital.
Other than equity-based investments, gradCapital also offers a grant programme called Atomic Fellowship. The programme distributes $5000 grants to students with STEM projects that have the potential to become innovative businesses. Peter Thiel-backed Emergent Ventures and Kshitij Khandelwal, co-founder and CTO of spacetech startup Pixxel will back the project.