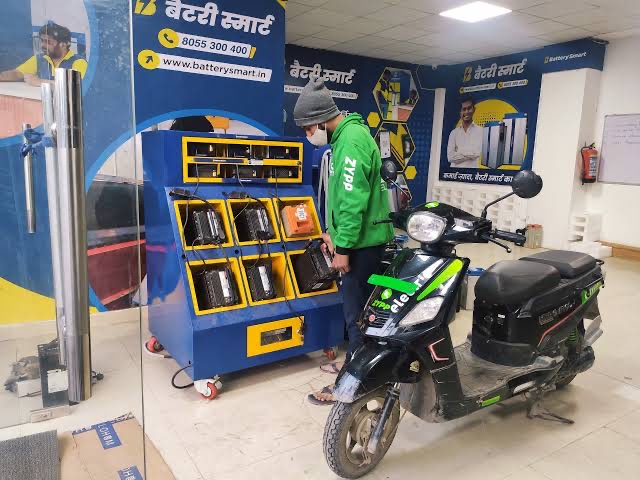 Battery Smart, an EV battery swapping startup, has secured $25 million (roughly Rs 195 crore) Series A funding round. Tiger Global, Blume Ventures, and Orios Ventures along with other angel investors participated in the round.
Battery Smart will direct the funds to expand into new markets, strengthen its technology infrastructure, and build a team to continue scaling operations.
Before this, in November, the startup received $7 million in Pre-Series A funding from investors including Blume Ventures, Orios Ventures, Green Frontier Capital, TradeCred, and Baring Private Equity India.
The emergence of a battery swapping solution
Battery Smart was co-founded in 2020 by IIT-Kanpur graduates Pulkit Khurana and Siddharth Sikka. It claims to be India's largest and fastest-growing electric vehicle battery swap network.
Battery Smart is a Delhi-based network of electric three-wheeler rickshaw and two-wheeler battery swapping stations. It subscribes advanced Li-ion batteries to e-rickshaws, allowing the driver to stop at any of the company's partner switching stations and exchange a fully charged battery for a discharged battery, allowing them to return on the road and continue their business. The platform also aims to improve e-rickshaw drivers' livelihoods by doubling their daily earnings.
The company claims that its battery-as-a-service (BaaS) model enables interoperable battery swapping for electric vehicles in under two minutes and reduces a consumer's upfront investment by up to 60%. So far, the company has completed over 2.5 million battery swaps. It is targeting the ever-growing battery swap market, which is expected to reach USD 17 billion by 2025.
Battery Smart's tech-powered battery-swapping network provides an innovative solution to power India's rapid adoption of electric vehicles for food delivery and e-commerce. Connie Lee, Partner at Tiger Global, stated, "We are excited to partner with the company as it rapidly expands its footprint in key markets."
What lies ahead?
Following the publication of a draught battery swapping policy by Niti Aayog last month, the Government will continue to prioritise battery swapping infrastructure and EV financing. According to reports, India's battery swapping market has strong growth prospects, with EV two and three-wheelers expected to contribute up to 30% of first- and last-mile vehicle sales by 2027.
"Partnerships are growing among battery manufacturers to deploy batteries on our network stations, OEMs who want to offer this service to their end-users, particularly in commercial use cases, and large and medium fleet operators who recognise that, in addition to being more cost-effective, it also helps them earn more due to almost zero downtime."
Battery Smart intends to open 10,000 swap points in 25 cities over the next three years, making this a valuable offering for all EV users. In addition, the company is investing in improving the technology that drives the Battery Smart network and optimises its asset utilisation. Battery smart aims to set up swapping stations in every square kilometre.