PhysicsWallah raises $100 million in its maiden funding round
It earns the position of India's 101st unicorn
The funds will be invested in business expansion and opening educational centers
Key investors: Westbridge and GSV Ventures.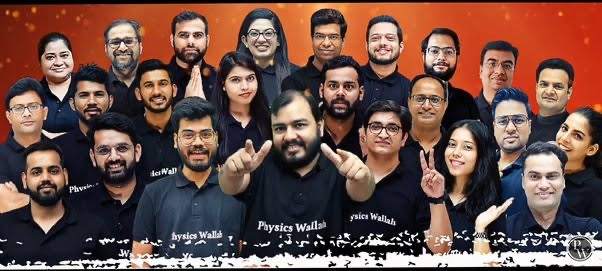 Edtech company PhysicsWallah has secured $100 million in Series A funding from Westbridge and GSV Ventures. The company has joined the likes of ALLEN Career Institute, which bagged $600 million from Bodhi Tree Systems.
With the current funding, the firm has become India's 101st unicorn and joins India's six other ed-tech unicorns— BYJU'S, Unacademy, Emeritus, upGrad, Vedantu and LEAD. 
"PW creates long-tail value for learners by delivering high-quality education at a democratic price. PW is one of the rare startups with a profound understanding of the education that BHARAT needs today."

Sandeep Singhal, Managing Director of WestBridge Capital.
"Led by renowned YouTube STEM educator, Alakh Pandey and tech executive Prateek Maheshwari, the company is disrupting the test preparation market (today JEE and NEET) delivering low-cost solutions of the highest quality with extraordinary learning outcomes for over 6mm students and growing. GSV Ventures' mission is for all people to have equal access to the future and PW is delivering on that mission at scale." 

Deborah Quazzo, GSV Ventures Managing Partner
According to a press release from PhysicsWallah, the company intends to use the funds to expand its business and brand, open more education centers, and add new course offerings to its current portfolio. 
The beginning of an educational revolution
Based in Noida, PhysicsWallah is an ed-tech startup offering online and offline courses and study material for JEE, NEET, and other entrances and state board exams. It was launched as a YouTube channel in 2016 by Alakh Pandey, who is also the chief executive officer of the company. The platform provides live classes, video lectures, test series, and dynamic exercises for such exams.
"Since its inception, we have focused on delivering high-quality education with affordability at the forefront, ensuring that learners from all walks of life can continue their higher education and boost their career trajectory without any hassles. Physics Wallah has been profitable since its inception and has positive cash flows and reserves. In FY22, the startup's revenue rose nine-fold and the current run rate for FY23 is $65 million."

Alakh Pandey, Founder and CEO of PW.
He further added, "With the help of PW's comprehensive, interactive, and engaging educational content in the form of lectures, videos, and notes, 10,000+ students have cracked competitive exams like NEET and JEE in 2020 and 2021. The platform proudly boasts that at least one student in six medical and one in ten engineering colleges in India are PW alumni."
Owing to the pandemic, the company rolled out an interactive application for the students where they can study online or join live teaching sessions.
At present, Physics Wallah employs 1,900 people, with 500 teachers and around 100 tech experts. It also has a team of 200 associate professors to assist students with their questions and additional 200 professionals who prepare exam questions and term papers. The company owns 20 offline centres in 16 cities, including Delhi, Bhopal, Varanasi, Lucknow, Pune, Patna, and Ranchi, in addition to YouTube and applications. It has nearly 7 million subscribers on YouTube.

The firm plans to introduce educational content in nine vernacular languages, including Bengali, Marathi, Tamil, Telugu, Gujarati, Odia, Malayalam, and Kannada, as a mission to expand in every corner of the country, connecting to 250 million students by 2025. Additionally, it intends to open 20 offline coaching classrooms across India.