His net worth has surpassed $210 billion, making him not only the world's richest person but wealthier than anyone else on the planet dating back to at least 1982, when the first Forbes 400 list was created. 
Today, he controls nearly 40 percent of all e-commerce in the United States. The adjective that appears over and over in his closely read annual letters to shareholders describes the 57-year-old the best- 'relentless'. 
Yes, it seems like the most successful entrepreneur on earth, Jeffrey Preston Bezos was surely gifted with some superpowers. With an empire so large and varied, it is often difficult to comprehend.  
Recently, the man has stirred the headlines again as he stepped down as Amazon CEO passing the baton to his successor, Andy Jassy on July 5, 2021. The media tycoon believes,
Amazon couldn't be better positioned for the future
As the battle to establish a human colony outside earth is gaining its momentum, here's a close look into the creation of Jeff's mammoth kingdom.  
The early years
Bezos was born on January 12, 1964, in Albuquerque, New Mexico, to a teenage mother, Jacklyn Gise Jorgensen, and his biological father, Ted Jorgensen. However, the marriage didn't last long and his mother remarried Mike Bezos, a Cuban immigrant. Bezos was 4 years old at that time. 
When Bezos graduated from Miami Palmetto Senior High in 1982, he had big plans to change the world. When he made clear his intention to become class valedictorian, everyone knew they were now working for second place. Jeff was the top graduate in a class of 689.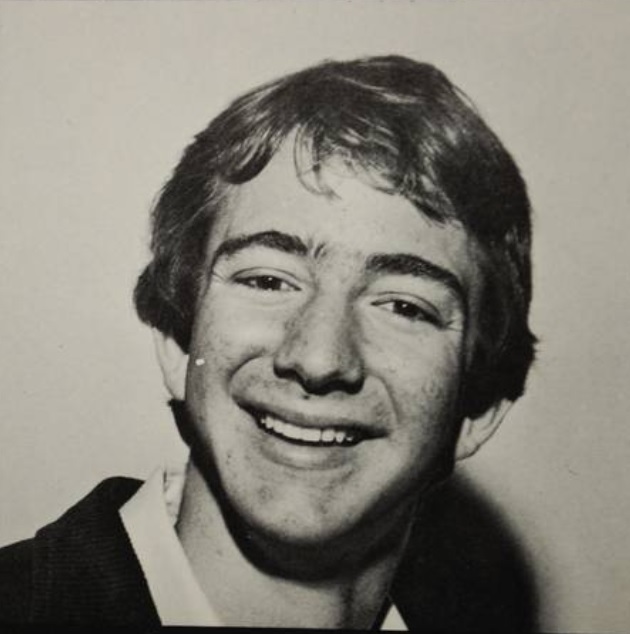 High school gave an early sign of Jeff's imaginative mind and entrepreneurial spirit when he started his first business, the Dream Institute, an educational summer camp for fourth, fifth and sixth graders. 
Since his early days, he had a keen interest in computers and how they work. He pursued computer science and electrical engineering at Princeton University. He came out as a summa cum laude graduate in 1986. 
The scripting of Amazon
After graduating from Princeton, Jeff found work at several firms on Wall Street, including Fitel, Bankers Trust and the investment firm D.E. Shaw. He went on to launch a news-by-fax service company with Halsey Minor, the founder of CNET. After its failure, Bezos became D.E. Shaw's youngest vice president in 1990. 
However, the year 1994 saw an incredible twist as Jeff quit his worthwhile job and decided to venture the untrodden path. He moved to Seattle and opened an online bookstore. Bezos opened Amazon.com, named after the meandering South American river, on July 16, 1995, after asking 300 friends to beta test his site. The team was then working from his parent's garage. 
Within its first month after launch in July 1995, Amazon sold books in every state in the U.S. and 45 countries around the world. In two months, sales reached $20,000 a week, growing faster than Bezos and his team had envisioned. 
Exceeding All Expectations 
Amazon went public in 1997. Analysts had their doubts but the growth curve outpaced all its competitors. Bezos continued to diversify Amazon's offerings with the sale of CDs and videos in 1998, and later clothes, electronics, toys and more through major retail partnerships.
During Amazon's first year, Bezos tried to raise money by predicting $74 million in sales by 2000, far underestimating the reality: $1.64 billion in sales in 1999 alone.
As the platform evolved its product offerings and solidified into the Internet Giant, annual sales skyrocketed from $511,000 in 1995 to over $3 billion in 2001.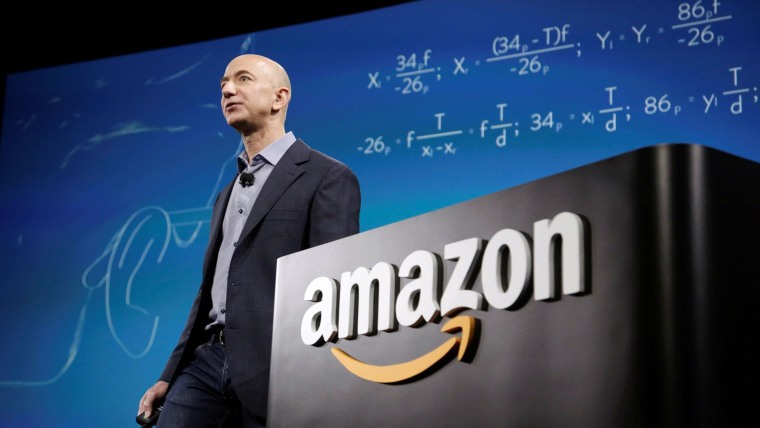 Amazon flourished with yearly sales that jumped from $510,000 in 1995 to over $17 billion in 2011. In 2013, Bezos revealed his first plans for the company's revolutionary Amazon Prime subscription business, with Amazon Prime Air, which would use drones to deliver to customers. He also bought The Washington Post in the same year in August. Since then, its audience and traffic have grown exponentially, surpassing The New York Times in terms of U.S. unique web viewers in October 2015. 
Amazon's share price indicates its phenomenal growth. The stock increased over 450% from January 2016 to January 2021 and rose more than 75% from January 2020 to January 2021 alone. Bezos owns about 11% of Amazon as of 2021, making it the largest source of his wealth.
As part of Bezos' 2018 annual shareholder letter, the tycoon said that the company had surpassed 100 million paid subscribers for Amazon Prime. By September 2018, Amazon was valued at more than $1 trillion, the second company to ever hit that record just a few weeks after Apple. 
Amazon boasted $386 billion in net sales in the 2020 fiscal year.
Other Milestones 
Besides being the owner of Washington Post, Jeff went forward to set up an aerospace company that develops technologies to lower the cost of space travel. Accordingly, Blue Origin was founded in 2000.  
In 2018, Bezos focused on another initiative, Bezos One Day Fund which primarily helps in 'funding existing non-profits that help homeless families, and creating a network of new, non-profit tier-one preschools in low-income communities.' Bezos founded the organization with his ex-wife MacKenzie before their divorce. 
On February 17, 2020, Bezos announced that he was launching the Bezos Earth Fund to combat the potentially devastating effects of climate change.
Another new chapter
Bezos' cause of concern was that in the coming generations the planet's growing energy demands will outstrip its limited supply. He used to say,
We have to go to space to save Earth
As his journey with Amazon ended a few days back, it already seems that the Silver Knight has stepped into another gigantic contest, the 'billionaire space race'.  
While Jeff had announced his plans to make a space trip on July 20 through Blue Origin, the 70-year-old British Billionaire Richard Branson has stolen the limelight with his successful trip to the edge of space completed on July 11.  
On the other hand, Jeff's Blue Origin has also been licensed and is gearing up to launch its first crew of humans on the scheduled date.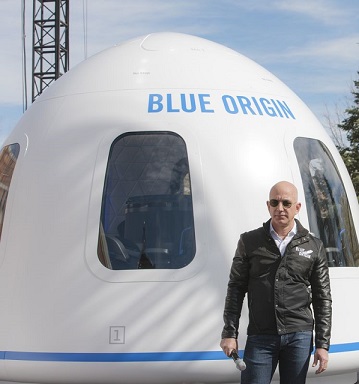 With the buzz of two billionaires racing their own rockets into space, it seems like the world has a lot more to witness from the American titan.