Neo-banking is a sector that has been booming over the past few years. Several startups are offering banking services over a digital banking platform without a physical branch. One key banking service that remains unaddressed in the domain, is social credit and financing services.
SaveIn aims to create an alternate market place for borrowing and lending money. The venture has created a platform that has digitized and organized the entire business of social financing.
What is Neo-banking?
Before getting into SaveIN, it's essential to understand the concept of neo-banking. A term that has been popping up with increased frequency in fintech communities, a neo-bank refers to a bank that doesn't exist physically at a particular location. It doesn't have any branches that you can visit in person. Rather, a neo-bank offers all the services a traditional bank would offer, but digitally. The widespread growth of mobile technology and overall digitization has led to neo-banks being a far more viable option for tech-savvy customers.
That said, neo-banks still do not have a bank license of their own under the current Indian economic framework; and hence, remain reliant on bank partners for the same. Still, these partnerships allow them to provide licensed banking services on a digital platform to users, at the user's convenience without having to physically visit a bank's branch. This also allows customers to explore more services currently not provided by traditional banking solutions.
In India, about 80-85% of the population does not have a credit history and they are not eligible to get a loan. They have to seek financing from social contacts and alternative routes.

Jitin Explains
Jitin Bhasin, founder of SaveIN, has a fresh take on the neo-banking sector, focusing on social financing and helping people climb the credit curve. Jitin has worked in financial services for over 14 years, and has spent six years in CXO roles giving him experience in banking, insurance, consulting and fintech sectors. The former BankBazaar and IndusInd bank top executive also has previous experience of handling a fintech startup. He serves as the managing director of Indian operations for the digital lending startup, RupeeRedee.
All his experience culminated in the realization that a large segment of the general public does not have easy access to formal credit, and that it was necessary to provide people with the means to develop a healthy formal credit history.
What is SaveIN?
Although neo-banking is a relatively new concept, the ecosystem is already abuzz with a wide variety of startups trying to capitalize on this sector. To that end, Jitin Bhasin, wanted to do something different that took advantage of the neo-banking sector while addressing a largely untapped and unorganized market.
SaveIN makes it easier for users to lend/borrow amongst family, friends and acquaintances. This innovative approach to the money-lending service, is what sets SaveIN apart from other banking institutes; especially for short-term loan requirements. SaveIN is being built as India's first social financing neo-banking platform, digitizing the entire lending/borrowing process.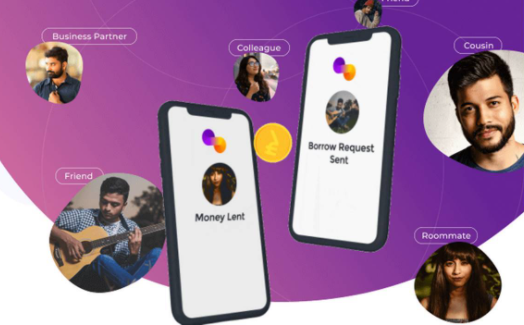 "Over 75% of Indians lend and borrow money among each other, especially for their short-term loan requirements, we have created India's first and only social finance platform, that aims to organize this large market of transactions amongst friends, family and acquaintances facilitating discovery, matchmaking and record keeping of such transactions," said Jitin Bhasin, Founder and CEO, SaveIN.
Moreover, traditional banks generally enforce a fixed interest rate while also checking customer credit scores. Both these guidelines adversely affect the chances of loans being granted. Additionally, people tend to be more comfortable with borrowing money from familiar faces in their own social circle; be it from family, friends, colleagues, acquaintances, etc.
This trend is prominent in a lot of countries, including India and emerging economies. From a logical standpoint, it makes sense. It's far easier to ask for monetary help from a personal contact than from an institution. Your contact is someone you're already familiar with and is someone who can be trusted. Furthermore, the lender is more likely to provide you with financial assistance as they, again, know you personally and can trust you to return the sum as per the agreement between both parties.
The Team
Led by the experienced Jitin Bhasin, the team also consists of big names in the financial and banking sector. Co-Founder Anurag Varma (CPO) has a rich vein of experience working with neo-banks in Singapore, and is leading the product development for SaveIN. Rahul Gupta (CFO), Karan Jain (COO) bring immense experience and expertise in the finance, banking and consulting sector while Gaurav Luthra (CMO) brings in a decade long experience in the consumer focused domains. He is the founder and Ex-CEO of Whats Up Life, a pan India lifestyle media platform.
How does SaveIN change the way loans work?
A traditional loan from a banking institution is a tiresome process. Loans always require mutual trust, and to establish this trust banks demand tangible proof of your capability to repay loans. Sometimes, this proof may be difficult to provide, considering a major portion of the Indian population does not even have a credit history. This adversely affects the chances of getting a personal loan from a bank, which pushes people to borrow from loan sharks under exceedingly unfavorable terms. This is where SaveIN, as a social financing platform, enters the picture.
Lending and borrowing in your own social circle is evidently easier since there already exists some degree of trust between you and your personal contacts. Prior to SaveIN, however, there wasn't really any platform that could help users keep track of their borrowing/lending activities, which sometimes led to the inevitable awkwardness of asking a friend to repay money they'd previously borrowed. SaveIN intends on eliminating this grey area, by making the terms clear for each loan in your social circle. You can choose the interest rate on a loan provided or opt to not charge interest at all.
On the other hand, if you're looking for a loan; SaveIN offers you with a platform to easily find personal contacts who are willing to provide loans.
SaveIN also plans on having an alternate "score", similar to credit scores, to keep track of a user's reliability. This will allow users to build up their scores on SaveIN's platform and then take advantage of SaveIN's neo-banking services to increase their chances of going through the formal financial institutions. Thus, SaveIN intends to offer a simpler and more user-friendly pathway to increasing your formal credit score enabling access to superior financial products and services.
Launch and Growth
SaveIN started with active development in November 2020, and by April 2021, went through with their beta launch. They saw over 45-50 thousand users join the app in the first few months of launch, with Jitin expressing his happiness that several financially savvy individuals were more than happy to onboard as lenders on SaveIN. The added trust factor, considering only people in your contact list can request for loans; makes SaveIN an extremely feasible moneylending platform for both lenders and borrowers.
'Our beta vindicated what we had know all along, that the market opportunity is quite huge. The enthusiastic response of our early adopters has galvanized the entire team to work harder than ever and grow further', shares Jitin.
Considering the general trends of societal behaviour, and the impressive degree of flexibility SaveIN offers makes the platform very appealing to users. This is evident, as Jitin adds, with the hyperbolic growth SaveIN has seen in just a few months of it's launch. This growth is only likely to increase further as SaveIN is currently in the process of adding more banking facilities, making the platform a fully-fledged user-friendly neo-bank.