Today, it feels like she carried India on her shoulders
Sobbed her 60-year-old mother as the superstar weightlifter ended India's 21-year long wait for a podium finish in the category.
Saikhom Mirabai Chanu has thus scripted history on Saturday as she overcame her Rio heartbreak to become the first Indian weightlifter to clinch a silver medal at the Olympic Games at the Clean and Jerk event of weightlifting. She also became the first Indian to win an Olympic medal at the 2020 Tokyo Games in the Women's 49kg category opening the country's account.
Chanu's smile on the podium was hidden due to the mask, but those who know her and of her journey to this medal, would know how big a smile it was.
A glimpse of her early days
Chanu was born on August 8, 1994 in Nongpok Kakching, Imphal, Manipur, to a Meitei family. There were days she used to collect firewood and carry it on her head to their contracted half-acre paddy field which her elder brother found it hard to even pick up.
Her parents, Saikhom Tombi Devi and Saikhom Kriti Singh identified her strength from an early age when she was just 12.
With Singh working as a construction worker in the Manipur Public Works Department, Mirabai was fostered with limited resources. Her mother was also seen running a small tea stall on the main road of the village to support the family.
As a child, Mirabai used to help me on the half-acre land owned by a neighbour in our village. While my other children would spend time studying and weaving, Mirabai would carry the firewood on her head to support me.

recalls her mother
It would probably be surprising for everyone to know that the young Mirabai aspired to be an archer. The youngster became junior national champion in Chhattisgarh in 2009 before breaking into the national camp in 2011.
A glance at her career
Chanu's first major breakthrough came at the Glasglow Edition of Commonwealth Games; she won the silver medal in the 48 kg weight category.
She became a regular name in the international events since 2014 in the 48 kg category, she had won the World Championships and multiple medals at the Commonwealth Games.
Chanu qualified for the 2016 Rio Olympics in the women's 48 Kg category, however, it ended up as a nightmare as she had failed to log a single legitimate lift.
She wanted to quit the sport after missing medal in Rio

recalls her mother when asked about the event
However, she persevered and one of her biggest achievements came in 2017, when she won the gold medal at World Weightlifting Championships held in Anaheim, United States. She also grabbed a gold medal in 2018 Glasgow.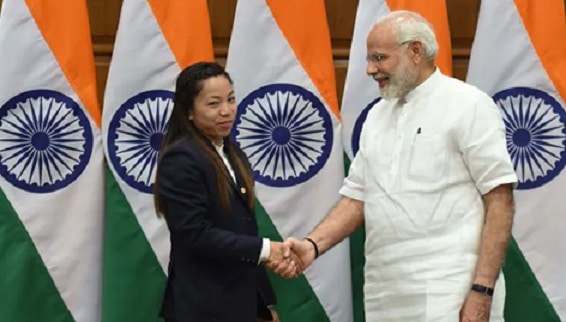 She was awarded the Padma Shri by the Government of India for her contributions to the sport. She was awarded Rajiv Gandhi Khel Ratna award by the Government of India in 2018.
The Tokyo 2020 hues
At the Tokyo International Forum, Mirabai Chanu began with an 84kg lift in her first attempt in the snatch segment. Later, the Indian ace improved with an 87kg lift that put her in an advantageous position in the competition.
But Mirabai's momentum was cut short once Hou Zhihui hit her stride with an 88kg lift in her first attempt. Hou Zhihui then set a new Olympic record at 94kgs in her third lift.
China's Zhihui Hou won the gold medal in the women's 49-kg weightlifting at the Tokyo Olympics, lifting a total of 210 kg, while Indonesia's Windy Cantika Aisah won the bronze medal.
Chanu lifted a total of 202kg (87kg+115kg) to better Karnam Malleswari's bronze in the 2000 Sydney Olympics.

Thus, she glued an entire Nation to the TV screen since Saturday. The Indian gem herself is on cloud nine since she has written her name in the annals of the country's sporting history and wants to feast on some pizza as she has been on a strict diet for a long time.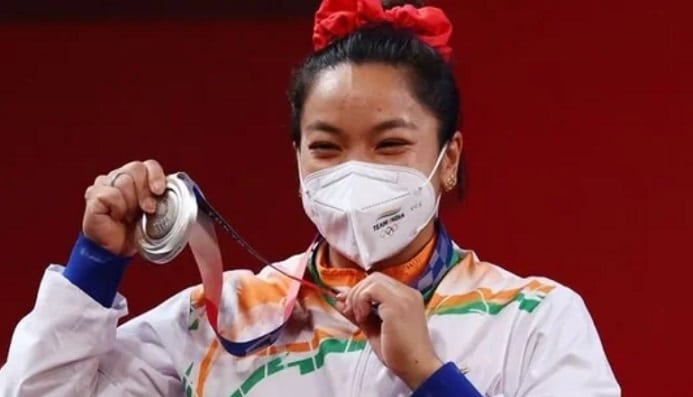 After the miracle, a post humbly came from Chanu's twitter handle,
The 25- year-old also became only the fifth Indian to win an Olympic silver medal.