Uttar Pradesh systematically implements the nationwide single-use plastic ban using a unique "RACE" strategy.
The campaign was launched on June 29th as a targeted 5-day drive across all UP districts, preceding the implementation of the pan-India ban on July 1st. According to reports, the awareness campaign will take place in public places, railway stations, vacant lands, ghats and drains, offices, educational institutions, markets, and bus stations, ultimately discouraging the use of prohibited plastic products.
"We intend to collect maximum plastic waste during the campaign and ensure that it goes to its final destination for proper disposal."

Manoj Singh, additional chief secretary, forest department
A plog-run (a combination of jogging and picking up litter) was held at the Gomti Riverfront on the first day. Ripu Daman Bevli, also known as the plogman of India, coordinated this run. The campaign will also identify plastic-free zones throughout the state, with a particular emphasis on the ghats. The run, organised by the Lucknow Municipal Corporation in collaboration with the environmental, forest, climate change, and urban development departments, was part of a five-day campaign to rid the state of single-use plastic.
Understanding the concept of RACE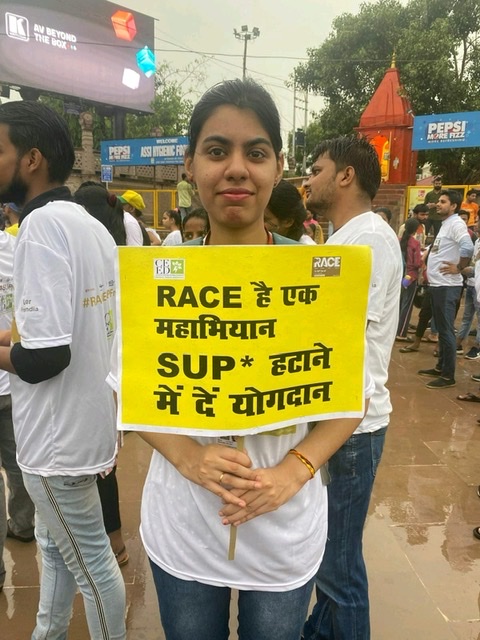 The acronym RACE refers to the four stages: Reach, Act, Convert and Engage. Each step is an ongoing process, but they all aim to move leads down the pipeline and eventually turn them into a movement that seeks a positive outcome.
RACE will spread the concept of a plastic-free community. It will influence people's behaviour and encourage them to use alternatives to banned items such as plastic sticks in earbuds, ice cream, plastic cutlery, and thermocol.
In addition to raising public awareness about the ban through radio channels and other information dissemination systems, the campaign will focus on collecting single-use plastic and recycling or upcycling it. Participants agreed to keep their surroundings clean and practice the 3Rs (reduce, reuse, and recycle) in their daily lives.
The Action Plan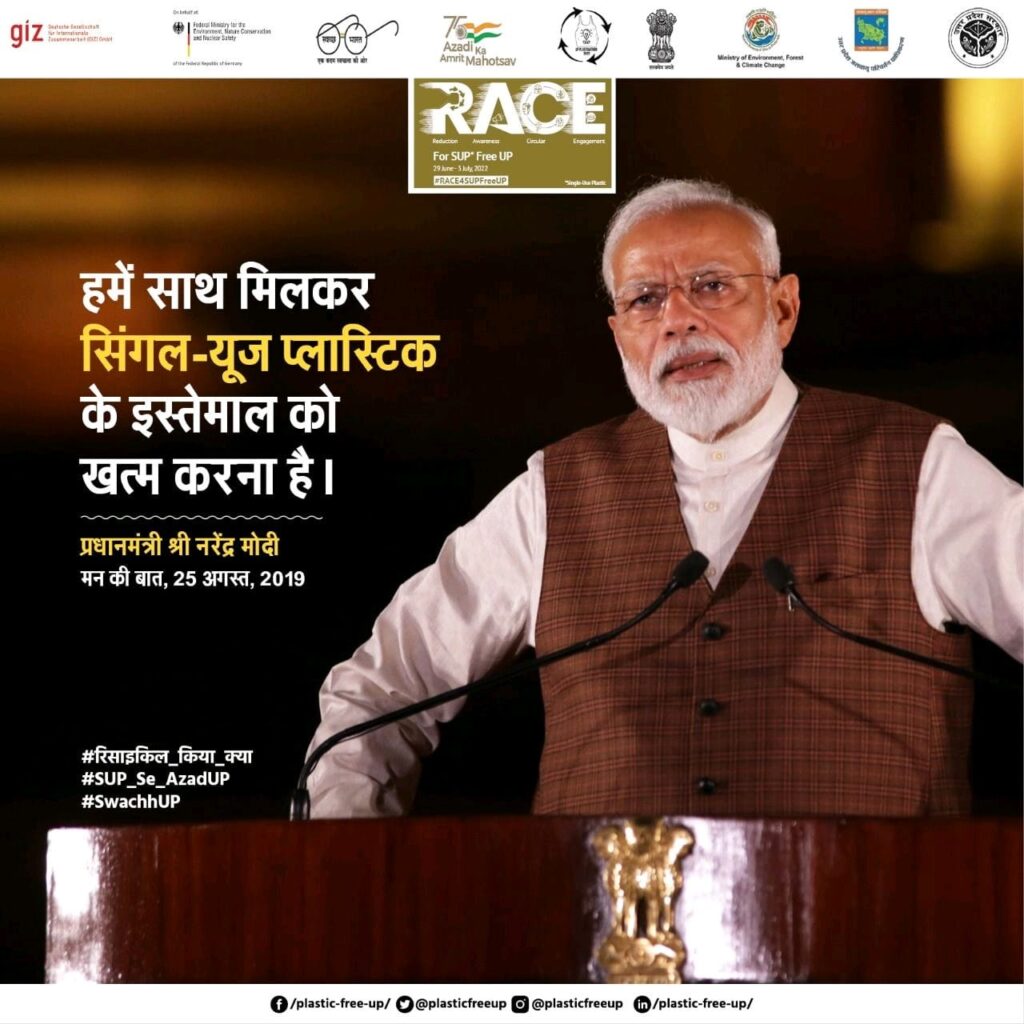 The adverse effects of littered single-use plastic items on terrestrial and aquatic ecosystems, including the marine environment, are widely acknowledged. Consequently, addressing pollution caused by single-use plastic items has emerged as a significant environmental challenge for all countries.
According to an official notice issued by the Ministry of Environment, Forests, and Climate Change, India will prohibit the manufacture, import, stocking, distribution, sale, and use of identified single-use plastic items with low utility and high littering potential beginning July 1st, 2022.
Earbuds with plastic sticks, plastic sticks for balloons, plastic flags, candy sticks, ice cream sticks, polystyrene (Thermocol) for decoration, plastic plates, cups, glasses, cutlery such as forks, spoons, knives, straw, trays, wrapping or packing films around sweet boxes, invitation cards, cigarette packets, plastic or PVC banners less than 100 microns, stirrers are among the prohibited items.
National and state-level control rooms will be established, and special enforcement teams will be formed to check the illegal manufacture, import, stocking, distribution, sale, and use of banned single-use plastic items beginning on July 1st, 2022. In addition, states and union territories have been asked to set up border checkpoints to prevent the interstate movement of prohibited single-use plastic items.
The CPCB Grievance Redressal App has been launched to empower citizens to help curb the plastic menace. In addition, PRAKRITI, the mascot, was also introduced on April 5th for greater public outreach.